Procedure from First Visit to Surgery
This section describes the process flow of surgical treatment at our clinic.
Please note that some exceptions may apply depending on the course or severity of your disease.
To make the first visit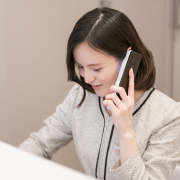 We are by appointment only to avoid unnecessary waiting times.
Please first schedule an appointment by phone (or contact form).
We accept patients without referrals.
If you have a referral with information on the past treatment, it will facilitate our treatment process.
We may recommend MRI or CT scan before surgery depending on the disease.
We can refer you to a medical institution for the imaging tests, so please let us know your preferences.
Please arrive on time for the first visit.
We cannot tell you the required time in advance as the kind of tests to be performed depends on the symptom or severity.
Therefore please allow enough time when you schedule something after the visit.
(It will take 3 hours on average for the whole procedure including blood sampling)
You first have to take tests, including eyesight, eye pressure, binocular single vision, Hess charting, etc., and then will see the doctor.
If surgery is necessary, we will decide the date.
After surgery date is fixed, we will take blood samples and ECG recordings, etc.
[Surgery day] Before the surgery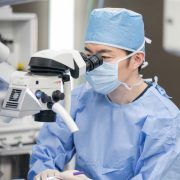 You are required to arrive on time as we perform many surgeries in one day.
If you arrive late, we may not be able to perform surgery on that day.
Please arrive in plenty of time.
In the case of general anesthesia, you will be examined by an anesthesiologist, and then change into surgical gown in the recovery room
before taken to the operating room.
In the case of local anesthesia, you won't be changing your clothes for the surgery. Please come in clothes that are comfortable and washable.
In the operating room, we will perform general anesthesia or intravenous anesthesia and nitrous oxide anesthesia, in order to minimize pain during surgery.
[Surgery day] After the surgery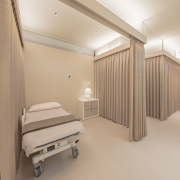 You may experience dizziness, nausea, or vomiting after the surgery due to anesthesia.
You may also experience blurred vision or double vision due to medication.
These side effects mostly disappear by the next day.
Please make sure to cool down and put pressure on the surgical area until the next day to relieve pain and prevent internal bleeding.
DO NOT take train or bus when you go home after the surgery, as there is a high risk of falls.
Take taxi or have somebody drive you home.
If you live far away (more than 30 minutes one way), we recommend you stay at a business hotel nearby.
If you want us to book a hotel, please let us know.
Revisit after surgery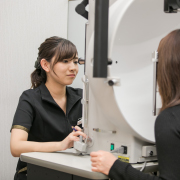 We are trying to decrease patients' burden of coming to our clinic by reducing the required number of visits after surgery.
In the case of local anesthesia, patients are not required to see the doctor on the next day of surgery.
In the case of general anesthesia, patients are required to see the doctor on the next day of surgery, either at the clinic or through video call on the smartphone.
The first revisit should occur one or two weeks after the surgery. The second revisit should be three months later, and then another revisit may be required six month later.
Therefore the number of required revisit after surgery is only twice or three times in principle.