About Anesthesia
Committed to provide treatment with less pain
Sedation

Sedation is administered to patients to lower their consciousness level and relieve their pain and anxiety.
There are two forms of sedation; sedation by inhalation and sedation by injection. Sedation by inhalation is safe and easy to administer, while sedation by injection needs monitoring after administration.
We will chose the better sedation type depending on the difficulty of the technique and duration of the surgery and try to eliminate the patient's pain and anxiety as much as possible.
General anesthesia for day surgery
In the case of patients with orbit fracture or orbital tumor, it is difficult to completely eliminate pain only by local anesthesia and sedation, therefore we conduct their surgery under general anesthesia whenever possible.
Also pediatric patients cannot withstand the injection for local anesthesia, we use general anesthesia whenever possible. As we employ minimally invasive incision techniques for our surgeries, our patients can get back to their normal life soon after surgery in most cases.
Therefore most of the surgeries we perform under general anesthesia (including surgery of orbit fracture or orbital tumor) are performed as day surgery as far as possible; patients rest in our recovery room for one to two hours after the surgery and go home. For those patients who live far away from our clinic or who need surgery of both eyes or extra rest, we arrange a stay at a nearby hospital or hotel.
In any case, we will be always available for emergency calls.
Types of anesthesia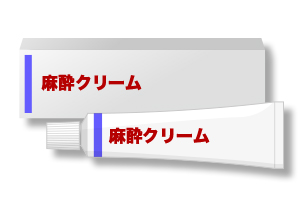 Anesthetic cream
Anesthetic cream is applied on the skin to reduce needle pain.
Applied before injection of an anesthetic before surgery.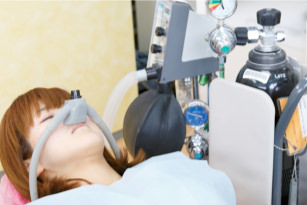 Laughter gas
Laughter gas is the safest anesthetic gas. It helps relieve anxiety.
We use it for short surgeries.
Local anesthetics
We use local anesthetics to remove pain during surgery.
To ensure maximum effect, we take the sensory nerve tract into consideration when administering anesthetics.
In addition, we use a buffer to adjust pH and remove injection pain.
Intravenous anesthetics
In order to alleviate anxiety even more completely, we use intravenous anesthetics.
When an intravenous anesthetic is administered before surgery, some patients fall asleep and when they wake up the surgery is already finished.
We place oxygen supply tube near the mouth of the patient while the patient is under anesthesia.
General anesthesia
When we perform surgeries of deep parts such as eye socket, we apply general anesthesia because local anesthesia alone cannot remove pain and anxiety completely.
Also for children, we use general anesthesia whenever possible.
At our clinic, a certified anesthesiologist with abundant experience administers general anesthesia.